An American's Christmas Pudding Recipe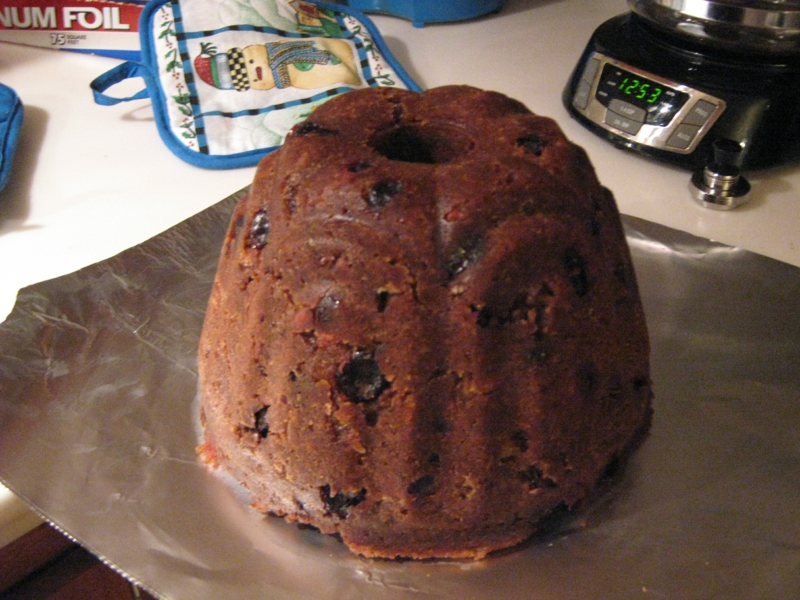 This Christmas Pudding recipe has to be one of the most elaborate recipes I've ever taken a swing at. The dish has a long proud history stemming all the way from back in the UK's middle ages. In the modern day US, its lots of fun to make since some of the ingredients that are traditionally used are a little bit difficult to find, which turns the whole process into a scavenger hunt. Every family was supposed to have their own version of the recipe, so you get carte blanche to make the recipe your own. Plus, you serve it flambe (on fire), which always goes over well with guests presentation-wise. The preparation is lengthy, but not very labor-intensive.
About Christmas Pudding
Christmas Pudding is also known as Plum Pudding. You've probably heard the phrase, "visions of sugar plums danced in their heads?" What's being referred to in the phrase is children dreaming about sweet preserved fruit – the type of thing you'd see in a Christmas Pudding. The Christmas pudding was a sweet dish featuring all of the candies and candied fruits that children would look forward to on Christmas day – things that normally would be too expensive to have around the house.
The whole process of making the Christmas pudding is based around family togetherness. Its believed that everyone has to stir the pudding for good luck. Usually the pudding was started the first Sunday of advent to be ready for Christmas. Which brings me to another thing I like about the recipe. Just reading the history of the pudding over at Wikipedia is fascinating.
A really cool thing about the Christmas pudding is that it stores pretty much indefinitely. In many households it was a tradition to cook one year's Christmas pudding the year before. Basically you keep feeding it alcohol through the year. You know how we love food preservation!
Why?
So, how did I, an American who is in no way British, come to the decision to make a Christmas pudding? It was a combination of two things. When I recently got my new pressure cooker to can pumpkin, I noticed a recipe for "traditional English plum pudding" in the instructions booklet. I didn't think much of it until a little later.
Then one day it happened – I fell in love with the idea of making one after paging through Larousse Gastronomique, an interesting text I picked up at a yard sale some time ago for a quarter. The book was originally published in the 1800′s, but my copy is from 1961. Its a voluminous mix of encyclopedia and recipe book. Its probably the only cookbook I've ever bought that I will curl up with and read on a cold night because it teaches you so darn much! Anyways, I opened to a section on traditional puddings – not the things you get in a jello box, but real puddings. Things like yorkshire pudding, boudin noir, and nesselrode pudding.
I spotted the entry for plum pudding, and saw how much room it took up to describe the process. It automatically sounded fun – the tradition involved, the labor, the ingredients. It just looked fun! The fact that you completely invent your own version of the recipe. The fact that one batch required an entire bottle of rum, plus beer, plus brandy. So, I told Jen, and we set about our way.
The hardest ingredient to find was the suet. For those of you who've never heard of it, suet is the hardened fat found around an animals kidneys. Its not like gloopy fat you'd find attached to a steak – its more like a hard block. Handling it is like handling solidified butter – I don't know how else to describe it. Most of what I found in my research states that it's shelf stable, though I personally didn't trust it. Something just sounded wrong about it unrefrigerated. Anyways, I managed to find it at Wegman's, but had no luck at any other stores in the area. That search included some local butchers, and farms too. The other place where I had luck was Brooks meat plant in Barto, PA. The one other thing I had to hunt down was a traditional pudding mold, though afterwards I spoke to a colleague who is a British expat, and he informed me that most people just use a large bowl.
Traditionally the pudding is made with either Rum, or Brandy, and then it is kept moist with stout. I went with dark spiced rum (Gosling's Black Seal) because I'm partial to it. Since I didn't choose to let it age before cooking (though the recipe calls for it), I just added the beer outright. I also used a dark Christmas ale (Troeg's Mad Elf), as opposed to a stout. After all, tradition dictates that I get to invent my version of the recipe, right?
I've also included the Larousse recipe for Brandy butter, since it sounds delicious and we're going to be making it when we serve it on Christmas.
So, after playing around with recipes from the internet, Larousse Gastronomique, and the recipe from my pressure cooker manual, here is what we came up with! Don't be afraid of the number of ingredients – its surprisingly easy to make! It just takes some time and money to gather everything up.
One warning though, this is not a healthy food. Let me repeat, this is not a health food. This is a once-a-year treat. About the only excuse you could make for eating this regularly is if you're working in sub zero temperatures, or doing an all day hike where you need lots of fat, protein, and calories. This may actually be a good food prior to something along the lines of a half marathon.
Plum Pudding (Serves 15-20)
Ingredients:
3 cups all purpose flour
4 cups bread crumbs
2 tsp baking powder
1/2 tbsp salt
4 eggs
1 cup granulated sugar
1 cup brown sugar
1 cup raisins
1 cup golden raisins
1 large apple, shredded
1 cup mixed nuts, ground
1 cup mixed candied fruit
1 cup minced black figs
1/2 cup shredded coconut
3 cups dark spiced rum (gosling's black seal works well)
1 cup dark ale (Troeg's Mad Elf)
1 lb suet, shredded
1/2 tbsp cardamom, ground
1/2 tbsp allspice, ground
1 tsp cloves, ground
1 tsp nutmeg, ground
1 tsp ginger, ground
1 tsp cinnamon, ground
At least 1 5-cup pudding molds (or one larger than 2 liters) (optional, pyrex glass bowls can be used)
butter for molds
Water for pressure cooking/steaming
Additional rum for storage
Brandy, and coarse sugar for serving
Brandy butter:
3/4 cups butter
1 tbsp fine sugar
1/4 cup brandy
Recipe:
Add all plum pudding ingredients except eggs in a large bowl and mix. It should make a thick enough mixture that it can be handled by hand almost like a meatloaf but a little more dry.
Cover and store in a cool place (~55 degrees F) for 14 days (1 fortnight). Each day stir in about 3 tbsp rum. (this step is optional, but recommended).
When ready to cook, stir in eggs.
Spoon into heavily buttered molds until full. Some light packing is ok. Cover the molds with aluminum foil tightly if they don't come with lids.
At this point you have two options, steaming or pressure cooking. The results are comparable, we use a pressure cooker.
Steaming: Put a rack in the bottom of a large pot for the mold to sit on, and put in the mold. Add some water for steaming and bring to a boil. Steam for 8 hours. You will need to periodically add more water and return to boil.
Pressure cooking: Put the mold on the canning rack in your pressure cooker, and add ~3 quarts water. Put lid on pressure cooker but don't put on weight. Bring to a boil, and let steam for 20 minutes without the weight. Afterwards, put on the weight, and wait for pressure to build. Once pressure has been built up (usually a pressure lock will indicate this), start a timer for 75 minutes.
Wait for whichever cooking apparatus you used to cool on its own.
Remove mold, and immediately birth on to a cooling rack, or some aluminum foil.
Wait for it to cool, and then set on plastic wrap. Pour about 1/4 cup of rum or brandy over the pudding, and wrap with the plastic wrap, trapping in the liqour.
Wrap the plastic wrap with aluminum foil, and store in a cool area. This can be stored for up to 1 year, possibly more. It was pretty common to make one year's Christmas pudding the year before.
Storing Christmas Pudding:
Once a month change the packaging, adding 1/4 cup or so of rum or brandy.
Serving Christmas Pudding:
Steam or pressure cook the pudding, the same as when you initially cooked it (steam 8 hours, or pressure cook for 75 minutes).
Birth on to a large bowl or saucer.
Sprinkle top generously with coarse sugar
Warm brandy until hot to the touch but not boiling. DO NOT USE A GAS STOVE – doing so can cause an explosion as the fumes from the alcohol escape and make contact with the flame.
Present to guests.
Pour warmed brandy over the pudding, and light with a match/lighter, and wait for it to burn off. Keep kids away from the flame! Needless to say this can be a fire hazard, so be VERY careful when doing this!
Slice and serve, top with warmed brandy butter
There you go! I'll be tweaking this recipe over time, but it was a heck of a lot of fun to make, and we can't wait for Christmas day to roll around and give it a shot. If you have the guts to try it, let me know what you think!
Did I mention this is not a health food?
Christmas Plum Pudding
Nutritional Information
Serving Size: 1/20th of Batch
Servings per batch: 20
Calories: 751
Total Fat: 33.3 g
Saturated Fat: 16.5 g
Polyunsaturated Fat: 2.3 g
Monounsaturated Fat: 11.6 g
Cholesterol: 55.6 mg
Sodium: 807.4 mg
Potassium: 383.3 mg
Total Carbohydrate: 88.6 g
Dietary Fiber: 5.3 g
Sugars: 48.7 g
Protein: 8.1g