About the Bethlehem Food Co-Op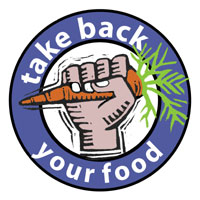 Food is important to me, and to Jen. Real, honest to goodness wholesome food. Things you would want your kids to eat so you could sleep easy at night knowing that they're fueling their bodies with the very best possible fuel. So, when I saw an announcement that meetings were beginning for a Bethlehem Food Co-Op on Save the Kales, I wanted to be involved immediately. Since then, its been a great ride.
The initial meeting had a spectacular turnout – at least 50 people showed up, most likely many more – I suck at estimating these things. It was standing room only. The meeting was also a pot luck dinner, featuring everything from venison and oyster mushroom stew (which was fantastic!) to a spicy masala sauce (which was divine). I don't want to cover too much what we went over – its been done. on. other. local. food. blogs. They were written from way fresher memories than mine are at this point – plus its not really the point of this post.
SOAPBOX WARNING
The fact is, I want the Bethlehem Food Co-Op to happen. Its important to me. I want to teach cooking classes at a co-op. I want to have community outreach programs where we can teach people about sustainable food, or composting, or gardening, or making homemade yogurt, or food preservation, or any of the millions of topics that are out there. I want to take food that hasn't been sold to a local pantry or soup kitchen because I feel like even our destitute should be able to have good, nourishing food. I want to go into local schools and teach the children of the community how to grow their own real food to help supplement school lunches so our kids aren't eating "government substitute _______ product." I want to feed people who have fallen on hard times because sometimes bad things happen to good people. I want to show people that good food doesn't have to be expensive. I want to teach people that healthy food isn't a privilege, it is a right. I want to show them that there are local farmers who would love nothing more than for you to stop by and say hello and see how the farm actually works (and maybe check out their farm stand). I want to raise community awareness. I want our community to sustain itself.
Why? Because most of the food that people eat is crap. I'm not saying that to be an elitist, but when schools are held to a lower food standard than fast food restaurants, there is a problem. When people think they have to eat Subway every day (55 seconds in) to lose weight, there is a problem. When people eat off the McDonald's dollar menu every day because they think its cheaper than cooking their own food, there is a problem.
Lets fix the problems, people! We can do it. Maybe we can change the world, maybe we can't – but we can change our little plot of land that we all call home. And I'll be damned if I'm not gonna give it my best shot. We deserve it. Food matters.
In engineering and computers we have a saying, "Garbage in, garbage out." Our bodies are machines. Despite all the glitter and smoke, our bodies are  just machines carrying around some genes. If you put garbage into them, you get garbage out. Eventually the machine starts to malfunction because its been consistently been given poor fuel. Eventually it breaks down – you can get it fixed up a few times, but eventually it stops altogether. Game over. End of story. You're dead. Beliefs and religion aside, for all we know and can prove, we don't get a second chance. Your kids won't get a second chance. Don't we all deserve healthy bodies and good food?
END SOAPBOX WARNING
The attendance at the first meeting alone goes to show that Bethlehem cares about its food, and I'm not alone in feeling that way. Then again, that's something you shouldn't have to think too hard to understand if you just look around our downtown businesses. Starfish Brasserie, and the Brew Works both come to mind as committed local and sustainable businesses, and I know that there are a ton more. I take a lot of hope from that – the community wants sustainable, healthy food that supports our local farmers and benefits the community. We want community outreach to help teach people about foods that are good for them. We want to teach cooking classes. We want to share. We want to cooperate. We want a coop.
So do you want to help? Check out our website at http://www.bethlehemfood.org to learn more. Or, if you have a voice you want to share, check out our forums at http://www.bethlehemfood.org/forum. We want and need your help, even if all you have to give is your opinion – we want it.
If you want to show up in person, we'll be running a second kickoff meeting at Jumbar's on Sunday, Dec. 11th from 4-7 PM. You can check out the facebook event page here.
I hope you all can join us on this trip. It'll be one heck of a fun ride.
-Matty