10 Things I Learned Buying a House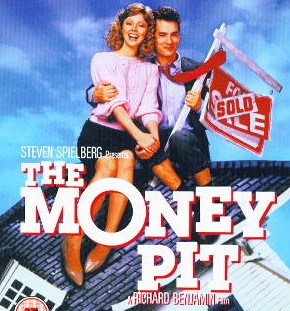 Buying a house is… interesting. Lots of little issues pop up that you'd never expect. As I mentioned, Jen and I moved in this past weekend, so expect to start seeing a number of home projects start showing up (that projects category will finally get used! Yaaaay!!!). We went through the motions of applying for a mortgage for pre-approval, finding a house we liked, doing two walkthroughs, getting an inspection, and finally closing. But through this whole thing there were little steps and things we missed. I'm sure this is common for all new homeowners – but its something that you don't really quite grasp until you own the house. So, without further ado, here are 10 lessons we learned.
There are problems with your perfect house.
Face it, unless you're the first owner of the home, the people who lived there wanted to leave for a reason. Whether it was because they outgrew the home, or because the heating pipes sound like they have hamsters running through them at all. hours. of. the. night. That doesn't mean that its going to be some horrible money pit, but it means that you should expect quirks that you will only notice after living under the roof for a few hours to a few days.
Expect to spend way more money than you planned. 
As you start noticing these quirks, there will be a ton of small things you can fix right away – an over tensioned door, or a crack in one of the bathroom walls. You can fix the problem right away, but it will often require buying a small tool or some silicon. These small charges add up – and the bigger the project, usually the bigger the tools and prices attached to it. Have a significant amount (at least $1500 dollars) in reserve for tools, paint, repairs, and other expenses.
Painting is not as easy as it looks on TV.
I learned this the hard way. I grew up watching Bob Vila on TV's "This Old House,"  and he always made painting look so effortless. Plus, I was pretty good at painting in art class, so I shouldn't have a problem painting a piece of furniture, right? Well let me tell you something skippy – that's nothing. I began my painting by taking a pine Ikea kitchen island I'd owned, sanding it, and then painting it. Lessons? Unlike high school art class, newspaper does not make a good dropcloth. It tears and sticks to paint, causing you to have to scrape it off, sand the area, and repaint to cover the blemish. This shouldn't be an issue though – if you have enough paint on the object at one time to drip on to a drop cloth, you've got too much on your brush. A ton of little tiny coats of paint are way better than two thicker ones. Just to be safe though, you can make a pretty great dropcloth by taking blue painter's tape and creating a layer on top of your workbench. Also, sand any walls which are remotely shiny.
Oil heating systems are loud and obnoxious (old ones anyway). And they scare cats.
After buying a house, you'll want to set programmable thermostats immediately. They're a great way to save cash, plus you're going to be spending lots of time inside so you may as well heat things up. But, as I learned about 20 minutes after moving in, old heating systems make noise. The pipes expand, causing creaking and banging sounds. Originally we were nervous that there wasn't enough water in the boiler, or that there was air in the pipes. After having the oil company pay us a ($700) visit it turns out its nothing more than the system being old, and the pipes expanding. There's nothing we can do about it short of getting rid of the whole system. Thankfully we've gotten to the point where we can sleep through it, however our cat, Grace, still freaks out every time she hears a knocking noise. Then she runs and jumps on mommy and daddy to warn us that the pipes are going to explode. This isn't a problem, unless it happens at 4am. Which it does. Frequently.
Start with a small project.
Unless you went to tech school and are a super handy person, you're going to learn quite quickly after buying a house that you aren't as handy as you thought you were. That's fine – you'll learn. Your ability to work with things is like a muscle, you need to flex it. So, start with a small project. Like I mentioned, I started with a kitchen island because it let me work with tools, and paint – both important things right after moving in. Its a nice warmup for everything else to come.
Finish one project at a time.
Pick a project and finish it. Don't let yourself get drawn in 20 different directions, because believe me, you will. Unless something can be fixed in 2 minutes, write it down and do it later. Keep a list of projects, and assign a priority to every item on the list. Tackle them in order of priority. If the problem can be fixed in 2 minutes or less and you have the parts and tools, do it now so it is done and you don't have to worry about it.
You need tools.
This is a simple fact – you need tools. You may have a dad who is a super handy man, but are you really going to run and visit him every time you need to do anything? Are you really going to rent-a-center every time you need to sand something? Start gathering things to build a workbench, and fill it with tools. Black friday was awesome for this – I now have a miter saw, a table saw, a multi-tier workbench,  several power tools, a metric and SAE socket set, and everything cost less than $300. You can find a lot of this stuff on craigslist too for cheap. Have tools on hand so when you see something that can be fixed immediately, you are able to fix it then and there.
Stockpile food before moving.
You know how Jen and I always talk about how good of an idea freezing food it? It has paid off in spades since we moved in. I have cooked approximately once, making use of Thanksgiving leftovers to make turkey rice soup. The rest has been food we had frozen and stockpiled. This way we don't have to spend time cooking – we can just keep working and not lose our momentum.
Do your research.
Unless a project is the simplest possible thing (fixing a toilet that doesn't flush properly, or changing the tension on a door), do some research before you start. Professionals have had years of experience, you haven't. So before you go sticking your hand in an electrical socket or cutting a hole in the wall, make sure you know what you're doing. There are a lot of factors to consider that you often wouldn't even know to think of. I won't lie, I actually had to do some research on painting and how to get newspaper off because, guess what, my experience painting in high school didn't actually prepare me for painting furniture and walls! Its easy to go on google and search for stuff. DIY, This Old House, HGTV, Create TV – they're all fantastic resources and they're free. Know when to call a professional too – our house is from the 50′s and most likely has lead paint and asbestos. I'm not touching that stuff, cancer sucks.
Don't panic.
You are going to find things that are wrong. Don't panic. There is a trick that my old CEO taught me when you start to freak out – close your eyes, control your breathing, and count to ten. He was a pilot, and told me that this was taught to him about how to handle midflight emergencies. It works. Panicking will make you irrational and emotional, and both are terrible things when it comes to tackling a problem at hand. Calm down, and proceed logically. If you can't, call a professional because you're very likely going to screw something up.
Bonus tip:

The Money Pit

 is required viewing.
Seriously, watch the movie. Its hilarious, and whatever happens when you first move in will seem like nothing after you see it.
With all of this said, owning a home has so far been an awesome experience. I've learned a lot, and needless to say I have a ton more to learn. Its turning out to be greatly rewarding. Its a journey, enjoy it.