Recipe: Beer and Cheese Soup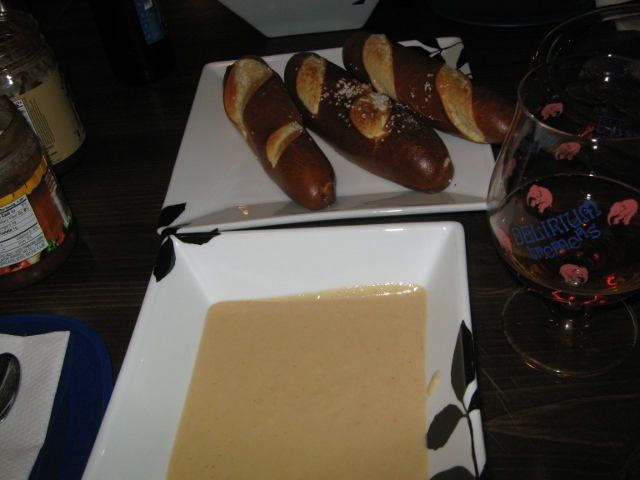 Beer and cheese soup, served with pretzels – served with a healthy glass of good beer. Who doesn't love this dish? No, it's not health food – not by a long shot. But it is a great, warming, stick-to-your-bones sort of meal that will keep you extremely full for a number of hours. It's also incredibly simple to make.
I was actually asked to come up with a recipe for beer and cheese soup by a friend of mine, and I heartily accepted the challenge. A long time ago I had picked up a copy of Cooking with Beer
on a discount rack in Barnes and Noble. I've had the book for years now, and have only really used it for making beer bread, and making drunk mussels. The recipe for beer and cheese soup has always sounded really good though, so it gave me a shot to try it out. We weren't disappointed. Just a fair warning though, this is not vegan friendly, and may not be vegetarian friendly either. It is also not gluten free.
You can probably find some tweaks pretty easily to fix that (we'll include some).
As always, we've tweaked the recipe just a hair to suit our tastes. Feel free to play with it and let us know what you think! Oh, one other thing, there is a lot of risk of things burning with this recipe. So make sure you keep paying attention, and you keep stirring! Seriously! Stir and keep it hot until you are ready to serve.
Beer and Cheese Soup (Serves 8 )
Ingredients:
16 oz cheese (we used cheddar from Keepsake Farms, Horseradish cheese from Klein Farms, and assorted cheeses from Cabot)
1/4 cup flour (Gluten sensitive folks could probably use gram/chickpea flour here)
1 12oz Bottle of good beer (we used a bottle of homebrewed Irish Red) – do not use light beer
1 pint of half and half
1/4 cup Butter (we used non-salted)
1/2 tsp of cayenne pepper
2 tsp white wine (we used Clover Hill Vidal Blanc)
1 tbsp Worcestershire sauce (note, this may not vegetarian friendly, it often contains anchovy paste – you could try subbing in Bragg's Liquid Aminos maybe?)
A dash of  hot sauce (optional, we used Sriracha Hot Chili Sauce)
Salt and pepper to taste
Grate the cheese. You really don't need to be perfect, it will get melted soon enough. Grating just helps speed things up.
In a large saucepan, melt the butter.
Add Flour, and stir until smooth.
Turn up the heat to medium and gradually stir in both the beer and half and half. Again, stir constantly.
Add the cheese, and stir until it is melted. Add the white wine, cayenne, Worcestershire sauce, and hot sauce if desired.
Once blended, serve immediately while keeping it hot.
The soup will thicken as it cools because of the amount of cheese.
We haven't tried freezing this yet since we had it tonight, but I don't think it will freeze very well. Its really thick, and rich.
Serve with soft pretzels, and a good, fall beer (if you're over 21, otherwise some good apple cider will work). We enjoyed Sam Adam's Harvest Pumpkin Ale, and Southampton Publick House Pumpkin Ale.
Nutritional Information
Serving Size: 1/8th Batch
Servings per batch: 8
Calories: 393.3
Total Fat:31.6g
Saturated Fat: 19.9g
Polyunsaturated Fat: 1.0g
Monounsaturated Fat: 9.0g
Cholesterol: 97.5mg
Sodium: 415.4mg
Potassium: 155.5mg
Total Carbohydrate: 8.3g
Dietary Fiber: 0.1g
Sugars: 0.6g
Protein: 16.6g
If this recipe sounds good, you should check out the original! It (and some of the suggested ingredients used to make our version) is are available on Amazon here: