10 Easy Ways to Save Money on Food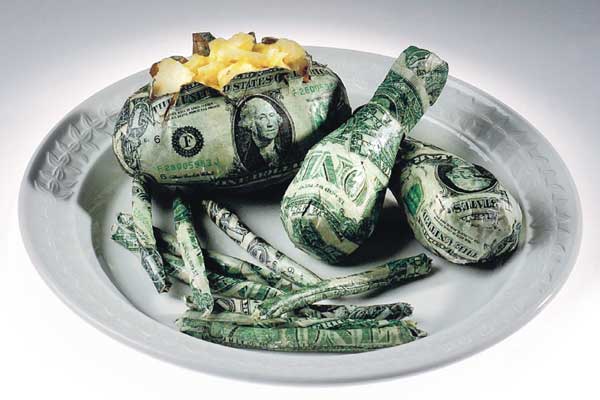 As part of our financial pull-ups series, I wanted to start talking about easy ways to save some money each month. Food is one of the best places to start, since we all eat, and we all can probably get something useful out of the list I've compiled.
Plus there is an added benefit to this list – most of the things on it will also help you eat healthy. No one wants to have high blood pressure or high cholesterol. By taking some of the steps on this list, you'll be in a lot more control over what actually goes in your body. After all, do you really know what goes into that Whopper?
Learn to cook – It's amazing to me how often people shrug this off and say "I can't do it." If a caveman could roast animals over a fire, you can cook. Its not hard. If you're convinced you can't, do yourself a favor and try borrowing a college student cookbook from the library. Most of them have extremely simple recipes, aimed at people with little to no budget. The best part? They're usually pretty good. Even if you fail, keep trying. You can do it.
So why does it work? Because the unwritten law of food goes, "the less processed it is, the cheaper it is." A garden salad, or some guacamole and pita bread can be had for pennies on the dollar compared to their storebought counterparts. Just give it a shot, you'll thank yourself later.
Another great thing about this is you can cook large meals, and freeze them for later. This saves you time, and lets you have healthy food on hand for a fast meal instead of stopping at your local Burger King.
Eat out less – If you're working on number 1, this is the logical next step. Americans eat out a LOT – on average 4-5 times a week. Now whether its getting a coffee at Starbucks, or grabbing lunch in your cafeteria, you're still bleeding your heard earned cash with every purchase. If you consider that there are 52 weeks in a year, and assume the average purchase to be 5 dollars, you're looking at $1300. What could you buy with that money? Could you pay off a credit card? Finish your mortgage a few months early? The more you cook, the less you'll have to eat out. Does this mean never going to a coffee shop? No, it doesn't. But if you eat out 4 times a week – do you really remember each time as something special? Couldn't you use that money to do something and create memories you'll cherish for a lifetime?
Pack your own lunches – This is easy enough to do, just pack a brown bag lunch (or use a reusable lunchbox). It takes a few minutes each night to throw together a sandwich or some of the leftovers you've got from number 1, along with some snacks. Its healthier, and cheaper. It also helps to have some snacks on hand if you've got the ability. I like to keep a box or two of cereal in my desk at work, so when I'm hungry, I just grab a serving of cereal to munch on.
Walk the perimeter - As I stated in number one, the less processed food is, the cheaper it tends to be. Think about the layout of your grocery store for a moment. The perimeter of the store usually goes like this: produce, then meats and deli, then dairy and bread. The entire food pyramid is covered without you ever having to set foot towards the processed stuff they keep in the aisles. The best part? The stuff in these sections is cheap. This is real, whole food. Do as much of your shopping here as possible. As a benefit, the reduced sodium intake is great for your heart and blood pressure.
Never shop hungry – If you've ever done this, you know how horrible it can be. You think with your stomach, and not your head. Do yourself a favor and have a healthy snack before you go shopping. If that's not possible, stick to your shopping list. Speaking of shopping lists…
Make a shopping list and stick to it – Simply get a notepad, and keep it in the kitchen. If you run out of something you need, write it down. You can also pre-plan your meals and write down their ingredients. When you get to the store, ONLY get what is on the list unless you have a very good reason to veer away from that. This really helps to both lower your spending on frivolous purchases and your time spent in the store.
Keep a price book – When you shop with a shopping list, jot down each item's price next to it on the list. Then, keep a listing of the prices at home and compare what stores tend to be the cheapest for the things you buy. Over time, you'll end up with a pretty good list of the prices each store has for each item. You can use this to help you guide where to shop each week.
Buy generic – No, there is no difference between the Bird's Eye frozen peas and the Wegman's brand frozen peas. They're peas. The ingredients are the same – if you don't believe me, check. Buy the generic. There are very few cases where generics end up not being the better choice. If you really must have the brand name – stop for a second and think why you need to have it. Does it offer over the generic? Is it a quality difference? Or is it because you don't want to be seen checking out with a bunch of generic brand items in your cart? Think carefully about the answer, and let that guide your decision.
Check out the Ethnic Markets - In the Lehigh Valley we're really blessed to have a number of great ethnic markets for shopping. Next to the Lehigh Valley Mall we have Far East Market (home of the cheapest tofu in the Lehigh Valley). Along 191 in Bethlehem we have India Mart, a great place for all things Indian (its a fantastic place to find dried beans and spices). And last but not least we have Elias Markets (in both Allentown and Bethlehem)- probably the cheapest places to go for most produce and spices. You may have to sift through some of the produce a little bit more, but you'll end up spending pennies on the dollar. We usually shop at these places first, and whatever we can't find in suitable shape, we pick up in the super market.
Watch your serving sizes – This is another biggie that seems to affect a lot of Americans. We tend to eat huge portions. Did you know that your average box of spaghetti contains 7-8 servings? Or, did you know that the average serving of cereal ranges from 1/2 to 1 cup? Try measuring it out next time you are taking a portion of food. You might just find your food costs going down, and maybe your pant size too.
You may have noticed a theme with these – cooking for yourself and eating healthy amounts of whole foods. It breaks my heart when I hear people say they can't afford to eat healthfully, because it really means that they haven't learned how. Its much, much cheaper in the long run to take some control. You don't have to go crazy and make everything like I do, but try and cook just one meal a week for yourself, and you'll realize some savings and health benefit without that much effort.
This was by no means an exhaustive list, and I can honestly think of another 10 things without trying that hard. I bet you guys can too – so, I invite you to let me know what you think, and if you have any suggestions, please chime in. We'd love to hear them.