The Sixth Annual Dogfish Dash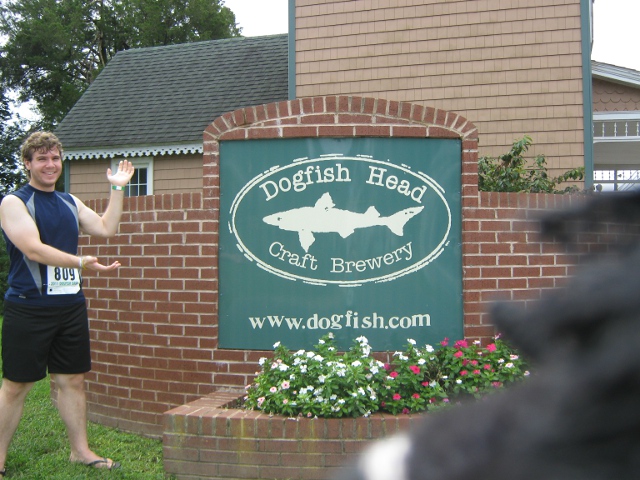 This past weekend was jam packed full of running for Jen and me. We got up at 6am on Saturday to visit the Morning Star Celtic Classic 5k with some friends. As always, the event was a ton of fun, and we got to help out a great cause too (all proceeds benefit the Special Olympics). After we finished up the race we made a straight line back home, so we could start our trek down to the Sixth Annual Dogfish Dash, hosted by Dogfish Head Craft Brewed Ales.
Now, let me pause that thought for a moment. I am a home brewer myself, and I consider Dogfish Head to be one of my favorite brewing companies. This is in large part because of their owner, Sam Calagione. He's kind of a modern day folk hero among brewers for doing his own thing, and making sure it happens. Heck, the guy opened his brewery in a state that didn't allow breweries – he had to petition the state a few days before they opened to change the law. He's got big dreams but remains completely humble – heck, he was milling about after the 5k, waiting in line with everyone else to sample his own beers. That's a man I can stand behind.
We picked up our packets at the Dogfish Head Brewings and Eats Brewpub  on Saturday evening, and the place was absolutely jam-packed full of runners. After driving for over 3 hours, we were hungry and wanted some beer. There was a 2 hour wait for food, so we chilled by the bar and checked out the merchandise kiosk outside. To decorate the new bar, we got a steel Dogfish Head sign, grabbed two bottles of Dogfish Head 120 Minute IPA, bought some coasters, two pint glasses, and a hoodie (we've been saving for this trip for awhile!). We stopped by the bar where I grabbed a pint of Repoterroir, and Jen grabbed a Chicory Stout.
Dinner was spectacular – we started with an appetizer of fried pickles, something neither of us had ever eaten before. They were served with a mustard sauce. The food was everything you'd expect from good pub grub – hearty, stick-to-your-ribs fare that's perfect after a hard day. We moved on to our second round of beer, where Jen grabbed the Palo Santo Marron, and I grabbed something truly amazing…
Cask conditioned Dogfish Head 75 Minute IPA.
Just typing that out makes me want more. This is hands down one of the very best beers I have ever had – if not the very best. It was delicious. It had a creamy head almost like a nitro-tapped pint of Guinness. The whole drink had a thick, warm, almost syrupy mouth feel (syrupy in an awesome way, not a bad way). The hop character was actually more subdued on the pallet than I would have expected, leaving what could only be described as a grapefruity creamy beverage with a fantastic smell. The tannins gave it a crisp finish and just a touch of bitterness. Perfectly balanced. I honestly couldn't think of a better beer to pair with food – any food really. It was a treat.
For dinner, Jen grabbed a Portobello burger, while I grabbed a personal pizza (the Alpine Idyll). I can't speak for her burger, but the pizza was incredible. Whoever makes their goat cheese deserves a medal – it truly defined the pizza. The addition of truffle oil gave just a touch of sweetness. Fantastic dish.
After dinner, we walked through Rehoboth down to the beach just to look at the Atlantic for a moment. Along the way we passed an ice cream stand called "The Ice Cream Store" boasting more than 75 flavors. I was enamored with the idea of tomato ice cream, and Jen grabbed cinnamon chocolate. I was surprised; tomato ice cream has a berry flavor. The only thing that could keep you from thinking it wasn't strawberry was the occasional chunk of tomato. After this indulgence, we made our way back to the campground where we were staying.
We set up shop at a small campground called "Homestead Camping" in Georgetown DE. To stick to our budget, we skipped renting a room at a hotel and instead decided we'd sleep in the car. We laid down the back seat and slept on top of them, with our feet going down into the trunk. Just a note for everyone: Volkswagen Jettas aren't great at sleeping more than one person. We got enough sleep, but it wasn't the most comfortable night. But hey, it was 35$ when everywhere else was charging over a hundred, so we can't complain too much.
We got up at 6am and made our way to the Dogfish Head brewery. The run itself was a lot of fun – a lot of people were wearing costumes. The biggest downside was that it was hot and humid – almost unbearably humid. Thick pea soup is a good way to put it. But the best part was after – breakfast! We grabbed some granola and yogurt, and we each grabbed a cup of Punkin Ale. Let's just say if you've never had DFH pumpkin, first thing in the morning is a great time to try it.
Afterwards we made our way past the streampunk tree house, and into the merchandise store for a tour of the brewery. Here's one of the worst parts of the trip – try packing 150 people who just ran in pea-soup humidity into a small store. The smell was horrendous. I feel bad – I'm truly hoping we didn't impart any bad flavors to the beer. The tour guide showed us Sam's original 10-gallon production brewing system, used for the Brewpub when they had just opened their doors. He then walked us through the brewing process and explained how the different types of equipment work. Finally, we were taken over to the fermenter room.
After all of this, we walked around for a bit, took some photos, and made our way back home.
Overall, we had a blast. It was totally worth the drive, and I'm excited to do it again next year. Oh – Delaware has some of the nicest people I've ever met, especially around Rehoboth. Is that far enough south to be considered Southern Hospitality? Anyways, if you like craft beer, and you like to run (or just want to train for a fun run) check it out, you'll have a great time!